How my dog beat his tumor
written by Elizabeth Tatum, Atlanta Georgia
It's the vet call we never want to get….  Our four-legged companion has a terminal sickness … and the options are less than promising.  The vet's hands are tied when it comes to cannabis oil, but there is hope for those willing to do a little digging, thinking, listening and trusting "outside the box."  
Three and a half years ago, I received the ever-dreaded vet call from the UGA Vet School following an MRI of Rayban's brain.  "We are so sorry" was about all I heard.  Rayban had been, diagnosed with an inoperable, terminal glioma (brain tumor) and given only a few months to live.  Thanks to some friendly advice (resulting from my tendency to "over-share" on social media), divine intervention and a little online research, we discovered that in spite of my complete skepticism, ingestion of cannabis oil – yes oil from the marijuana/hemp plant – has many medicinal benefits, and one of them happens to be a process of causing cancer cells (of all types) to kill themselves (also known as "apoptosis") in as little as 90 days.  
Intrigued and driven by the desire to know if this could really work (not just for Rayban, but for my humans, God forbid we some day need it), I researched article after article, and followed success story after success story (there are thousands). Then, after digging online for a few hours, I stumbled upon the mother lode – a name and number for "Jesse" – as he had helped a 15 year old pit bull "Shorty' beat stage 4 lymphoma and her owner had posted videos on YouTube and Facebook about that success   – "paying it forward" to help the next guy – like me – thank you Tino!  
As it turns out, Jesse has helped hundreds, if not thousands of dog owners navigate the scary and complicated world of helping their pets with cancer (and other ailments), and just a handful of these pet success stories can be found at https://www.healing-project.info/testimonials. 
I scheduled a time to talk with Jesse (which now can be done here:  https://www.healing-project.info/schedule-a-consultation), and within minutes of listening and learning, my fears turned to hope, and we took the plunge with cannabis oil.  In just 3 ½ months (6/6/17 to 9/26/17), Rayban's follow-up MRI was NORMAL – yes, the tumor was GONE!  
The UGA neurologist delivering the news eagerly obliged when I asked her to let me video record her laptop screen (see video here: https://youtu.be/YORWVbeA7Q8) as she scrolled through and explained every layer of the MRI (before and after, side by side) so that I had PROOF for my family and friends (all of whom endearingly called me the crazy cannabis oil lady) that I in fact was not crazy after all!   Today, nearly four years later, Rayban is 11 years old and still very much a part of our family!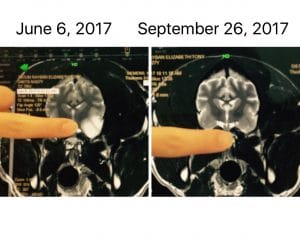 As always when I share this information, I have to say a few things:
These statements have not been evaluated by the Food and Drug Administration.  This product and this article is not intended to diagnose, treat, cure or prevent any disease. Results may vary by patient.
Thank you to Tino of Peace Love & Pitbulls (follow here on Facebook https://www.facebook.com/peaceloveandpitbulls)  for paying it forward with your video updates about Shorty, the most recent of which is found here https://www.youtube.com/watch?v=MLqtFdKryq4, and thank you Jesse and Isabel for The Healing Project, which can be found here https://www.healing-project.info/ .  They have already helped so many (pet and human) with their divine intervention and knowledge of cannabis oil!  They are also very eager to educate others, so be on the lookout for more info on the video podcasts they will be rolling out in the near future.  You are all wonderful gifts from God.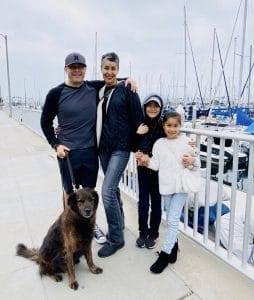 Photo of Jesse, Isabel & their daughters with Rayban – who was visiting them with Elizabeth!