My apologies for the lack of trail updates recently but when my stressed lower back wasn't healing properly, we made the difficult decision to separate. There were a few options of what to do with this separation, but we decided we'd like to stick together as much as possible. Finding my way from Tahoe back to Ryan's parents' place, I picked up our car in San Francisco in order to support Ryan whenever he reaches towns or roads where I can help. The trail improved almost immediately after Tahoe becoming gradual climbs and softer terrain. While I was overjoyed for Ryan, I also felt sad for pushing the red stop button. You may have heard these days of an acronym for this feeling – FOMO which means the Fear Of Missing Out.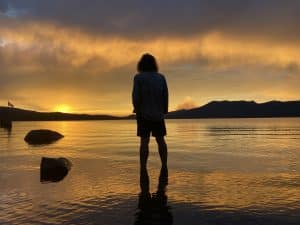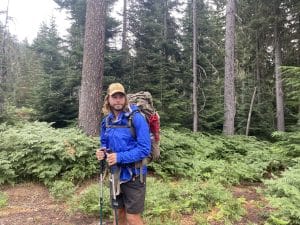 Sunset at Odell Lake, & Ryan getting back on trail
Weeks later, we are now in northern Oregon where we've seen more lakes than in all of California! Oddly enough, it hasn't rained until last night and I feel we must be going into rainier weather. With my back now healed, I am overly eager to jump back on trail as soon as we hit the Washington border. We're planning on taking four weeks to walk through the state and reach the Canada border.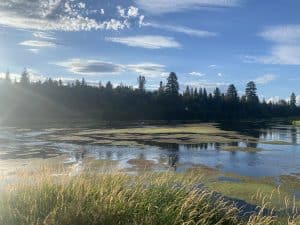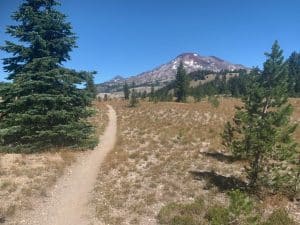 Picking up Ryan north of Burney Falls                                                   South of Mackenzie Pass
While off trail, I've had fun running into hikers we've met on the trail and giving them rides when needed. Originally, I was going to be a "trail angel" and dedicate my time off trail helping those who were still on trail. In a small Californian town called Quincy, it had been maybe two days since Ryan got on the trail without me, and our car broke down in the middle of town! It was Friday, past closing time for auto shops, and none of them opened again until Monday.. of course. Saddled up for a weekend there, I went to the fair and met some wonderful people. Luckily, it was a minor problem that was fixed in a jiffy come Monday. 
In Quincy, I ran into our "bear friends" and happened to see them a few times afterwards in different towns going north. Once in Oregon, I had many friends to catch up with, and plenty of opportunities to hike into the trail and catch Ryan. 
I am excited to provide more in depth posts throughout our last state. Ryan has been through two more pairs of shoes since our last posting, and encountered another bear, a coral snake, and plenty of interesting birds and bugs. More stories to come soon! Thank you for following our trail updates.