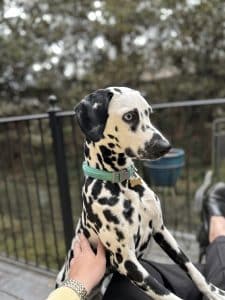 "What do you want to do?"
I remember those words as if they were spoken to me yesterday. The haze of the evening gone in a nanosecond as the woman on the phone waited for me to make what would've been an impossible decision.
3 months prior, I had the understated joy of meeting the newest member of my family – my 3 month old Dalmatian. Just as every dog-parent does, the months leading up to that introduction were filled with preparation. Shopping for crates, settling on a dog food, badgering your friends with pets with questions about the best vet, good dog-day cares, fun places to go with your furry family-member, best pet insurance to get – but I remember the most fun and anxious part of that was deciding what her name would be. With my absolute devotion to the South, and particularly Georgia, it was a close contest between Ivy, Peaches, and Georgia. We settled on something that the great Ray Charles said would always "be on my mind" – Georgia.
Within a few short months, Georgia had stolen my heart, my friends, and my favorite spot on the couch. She loves cuddles, watching TV (yes she actually watches it), treats, and running around to the admiration of friends and family alike who call her a "horse-dog" due to the way she prances about. It didn't take long for her to have me wrapped around her paw.
All of which made my decision that night much more difficult.
You see, I have a busy schedule that requires me to be out of the house most of the day for 2 days per work-week. During that time, she would play with toys in her crate or she'd head off to doggy day-care. This day, she went to her trusted day-care as she is used to. When I came home to her, she was not herself. She wouldn't leave my side, was constantly stretching, wouldn't touch her toys, wouldn't eat, wouldn't drink. Then the more obvious signs of trouble presented themselves. Throwing up over and over again, yelps of pain that couldn't be satiated, yowls of fear. Needless to say, the emergency vet was called. They (accurately) diagnosed that she must have consumed a "foreign-body". We later found out it was a rubber bone lodged in her intestines. If left untreated, she would die and her final moments would be of agony and what I can only imagine to be betrayal since I wasn't the Father she trusted me to be – to take care of her and keep her healthy and alive. When speaking with the vet, they said they could perform a simple surgery to remove the bone – nothing they haven't done before.
What I couldn't have been prepared for was the price. $25,000.00. I couldn't believe it. For a "simple" operation?! As I blurted out, "I can't afford that", their solution was an "easy" one. "We can put you on a payment plan. It'll be $1,250/month for the next two years. What do you want to do?" For many people, that is rent, or an exotic car payment, or daycare for the month, etc.
In an effort to be frugal with Georgia's life on the line, I waited till the morning and called around for quotes – the lowest being $7,500. Still an unheard of amount. Luckily, the front office tech said a few words that completely changed my life and kept Georgia alive. "We accept insurance". I had completely forgotten that I put insurance on my puppy when I got her.
I called my insurance provider, and sure enough, Georgia was covered for 100% of her vet bills. My dog could live. I wouldn't have to make that impossible choice of financial security or my dog's life. A few days later, Georgia was back to being her normal self again. Cuddles, treats, all the pets and "good girl's" she could possibly want – with the exception of any rubber bones. Those are permanently banned from my house.
Georgia almost died. I almost lost an invaluable member of my family, almost lost all the many years of memories I will make with her. She would've never seen a beach, taken a walk in the snow, or smelled fresh flowers in a field. But because I had insurance on her, she can experience everything life has to offer.
If you are struggling to find pet insurance, don't know where to go or what to get, I suggest doing what I did – go to PrimePetProtection.com.
Prime Pet will help you select a plan that works for what is important to you. Doesn't matter if your dog is a puppy, an old grump, or even one with "pre-existing conditions". There is something out there for all of them, at all price points. You owe it to your family to ensure they are ALL protected. That includes the furry ones.
Make sure you never have to make the impossible choice.